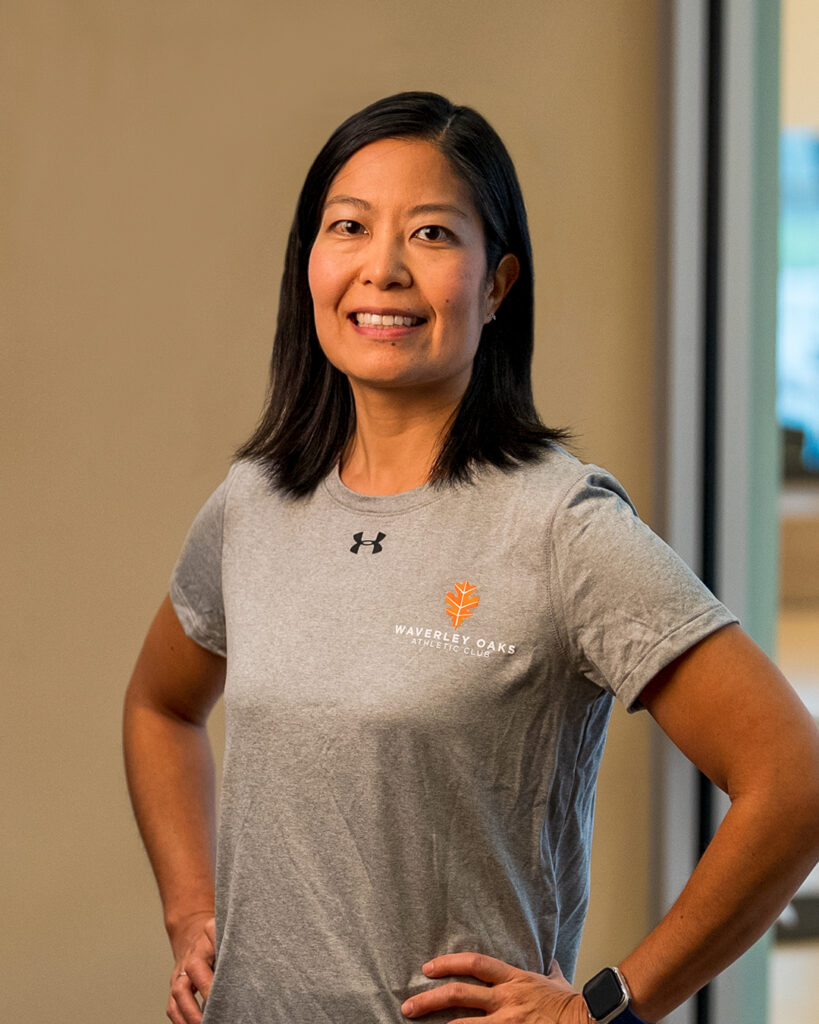 CYNTHIA CHANG
Certification: National Academy of Sports Medicine (NASM)
Growing up in New York City with two working immigrant parents, being physically active was not a part of Cynthia's childhood. As an adult, fitness became a passion for Cynthia and helped her find balance and strength – both physically and mentally.
Cynthia received her BA from Vassar College in Sociology and Public Economics and Master's in Public Policy from the Harvard Kennedy School of Government. After receiving her Master's degree and assisting in the response to Hurricane Katrina, Cynthia served as the head of homeland security and emergency management for the metro Boston area. The extreme stress of this role and the toll it took on her made her realize she needed to do something for herself, so she signed up to work with a personal trainer.
Because of the tremendous benefits she experienced from strength training and the support and guidance she received from her personal trainer, she decided to obtain her NASM Personal Training Certification to continue her learning and help others on their own health and wellness journeys. She has trained, performed with, and led the conditioning workouts for the only Asian women lion and dragon dance troupe in the U.S (lion and dragon dance are martial arts that were traditionally believed only men were strong enough to participate in).
Cynthia enjoys working with people of all ages, abilities, and experience levels, especially since she was once herself a complete novice to fitness. Given her personal experiences as a mom of two children and her work with older adults, she has a particular interest in women's fitness, pre/post-natal health, older exercisers, and helping individuals learn to strength train safely and effectively. Her favorite exercise is the TRX row to overhead press because it not only helps with back and shoulder health, but also does wonders for posture and opening up the chest cavity. Cynthia speaks conversational Mandarin and Cantonese Chinese. In her free time, she enjoys cooking, rock climbing, yoga, going for hikes and walks, and dancing (mostly in her kitchen!).
Philosophy on Training: Being kind to yourself is just as important as being kind to others, including learning how to take care of your body so you can enjoy life. The secret to strength is the ability to hold yourself up when gravity is pulling you down. Life is about rising against resistance, and to do so, you need to cultivate your strength so you can do all the things you want to in life. It is Cynthia's mission to help you achieve your goals, whatever they may be! For more information or to schedule an appointment, email: cynthiac@waverleyoaks.com.
TESTIMONIALS
---
Training with Cynthia was a great experience! After a long exercise hiatus due to the COVID-19 pandemic she eased me into a safe yet challenging routine. She was able to help me refocus on proper form, balance, and variety. I liked her patience, presence, and professionalism. I would highly recommend Cynthia." – Anna J., Member Since 2022
---
"From the moment I started working with Cynthia, she truly listened to every detail of what I wanted to accomplish. From creating plans to work around a knee injury, to understanding wants of toning certain areas, she has really made me feel at ease with the exercises she has selected. As a mom, Cynthia understands what a body is like after children, which I have found extremely helpful in my journey of toning. She just gets it! After only a few months of working with her, I have noticed that my clothes fit differently (in a great way!) and I can really feel my abs again after having two kids! Cynthia has been a great addition to my workout routine and life!" – Emily G., Member Since 2022
---
"I climbed a volcano – literally in Iceland during a recent bucket-list trip! I was not out of breath and my heart was not racing as if it was going to burst because I was so out of shape. In fact, I was in shape, felt fit, had a can-do attitude and was able to climb the volcano without even stopping to rest. I also climbed the highest waterfall in Iceland, Glymur. To do that, first I had to walk over a long log in lieu of a bridge over a frigid river. I achieved this with the help of my trainer, Cynthia. With Cynthia's professional guidance and support, I was able to enjoy my trip and amaze myself and my husband with how tremendously my condition and balance had improved.
When I started working with Cynthia, I had never smoked in my life but was so out of shape that I would be out of breath climbing a single set of stairs. She put together a customized workout plan so that I gain strength, work muscles that were dormant for a long time, and build up my condition and balance. Cynthia encouraged me every step of the way and helped me believe in myself and conquer my goals. I feel more energized and accomplished now that I can keep up with an exercise routine and enjoy doing so." – Canan, Member Since 2021
---
"I was assigned Cynthia as a trainer in conjunction with the weight management program at Mt. Auburn Hospital. The best things about her for me were that she always greeted me with a smile, listened & truly understood my goals, and challenged me without pushing me too hard. I saw clear results in strength, flexibility & balance within weeks, and Cynthia was always very encouraging and complimentary as a trainer & coach." – Kate, Former Member
---
"The best thing about working with Cynthia is that she truly customized our workouts, assessing my strengths and weaknesses each week and developing a program that would meet my needs. I haven't had that experience in working with other trainers in other gyms. She also respects my age and the various infirmities that come with it. Her knowledge of exercise and the body is very extensive and allows me to trust her suggestions for our sessions. Also, though she always remains professional, working with her is like working with a friend, warm, friendly, and always delightful. My experience with Cynthia is the best of things I have found at Waverly Oaks!" – Cheryl C., Member Since 2020