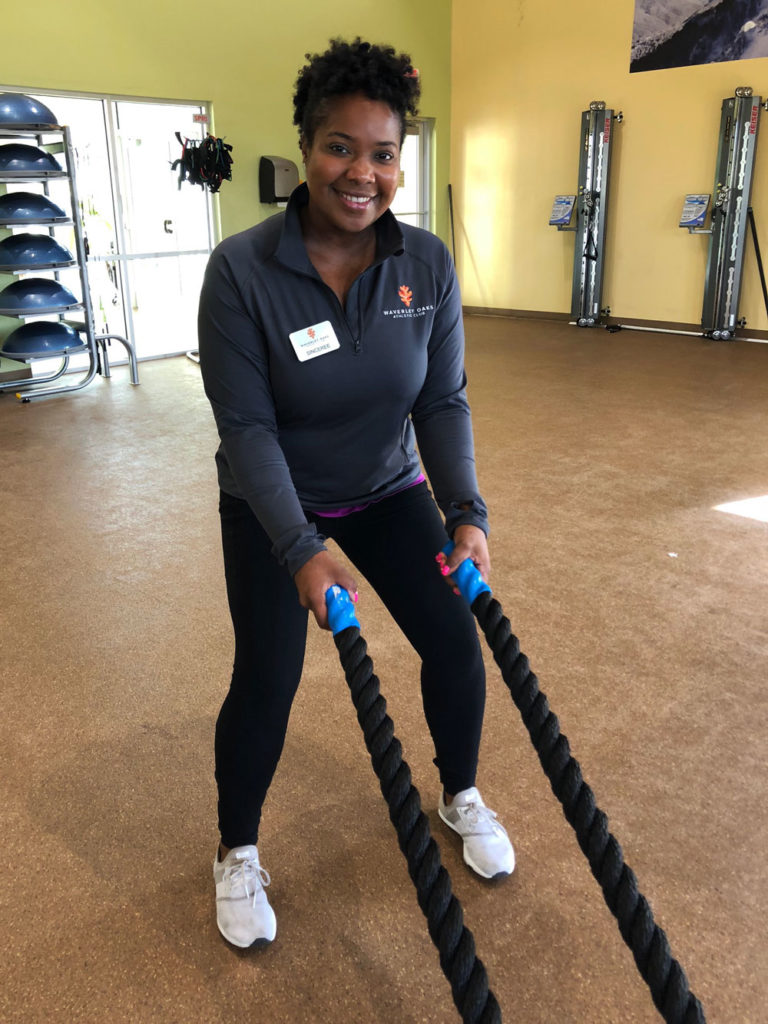 Sinceree Clarke-Diego
Certifications: National Council on Strength and Fitness (NCSF)
Sinceree Clarke-Diego has been working in the fitness industry for almost 10 years both as a group exercise instructor as well as a personal trainer. She holds an associate's degree in Exercise Science from Quincy College and is a Certified Personal Trainer through the National Council on Strength and Fitness (NCSF). She also holds her Group Fitness Certification through the Athletics and Fitness Association of America (AFAA). She is proficient in Spanish and has also been heavily involved in the Livestrong Program which gives cancer patients and survivors an opportunity to do a 12-week complimentary program at a Local YMCA to help combat and recover from both the physical and emotional effects of the disease. Sinceree enjoys working with all ages and fitness levels but particularly enjoys working with those looking to lose weight, improve strength/flexibility/balance, pre and post-natal women as well as those conditioning for basketball, soccer, volleyball, tennis and obstacle course racing. She frequently uses circuit and interval training as her means to get her clients the results they desire but can adapt her training methods easily based on each individual's goals and ability level. Her favorite exercise is the deadlift because of the total body requirements it takes to perform as well as the fact that it helps those clients who tend to sit all day get their posterior musculature firing the way it should be. In addition, Sinceree loves how the deadlift just makes her and her clients just feel overall strong and who doesn't want that? In her free time Sinceree enjoys doing all things life has to offer with family and friends from sky diving to reading a book on the beach. Quite simply, Sinceree looks at each day as a chance to live life to the fullest.
Philosophy on Training: In order to know where to begin we have to first figure out what your baseline is. I will help you uncover where you are, where you want to be and then together we will create a safe, effective and enjoyable pathway to get you to your goals. There will be challenges, but I will be here to support you through those challenges. Together we will celebrate each of your successes – both small and big – and we will take your body to new limits that you never believed were possible!
For more information or to schedule an appointment, email sincereec@waverleyoaks.com.
---
"I've been working with Sinceree for a couple of months now. There are a few things I'd like to share. Sinceree is one of a kind! She greets you with her warm and welcoming smile which becomes an encouragement during the workout. The time flies by in our sessions as Sinceree keeps me focused not only on the exercises but her ease of conversation and never ending challenge to improve my situation. With my arthritic pain I'd stopped working out the way I'd used to. With Sinceree helping me, I'm now able to resume doing the simple things in life that my pain was denying me. If I could give a rating I'd have to give ten solid gold stars!!" – Beth N.
"Sinceree is easy to work with, encouraging, while pushing me out of my comfort zone… pretty confident that because of her I'll reach my fitness goals." – Amy K.
"Sinceree goes above and beyond consistently. I have lost 6% body fat and 16lbs in the year I've been working with her. She knows how to get inside a person's head to determine how to motivate them and overcome the mental obstacles. Then, of course, she is fabulous at creating the right plan to get results." – Jessica, Member Since 2017