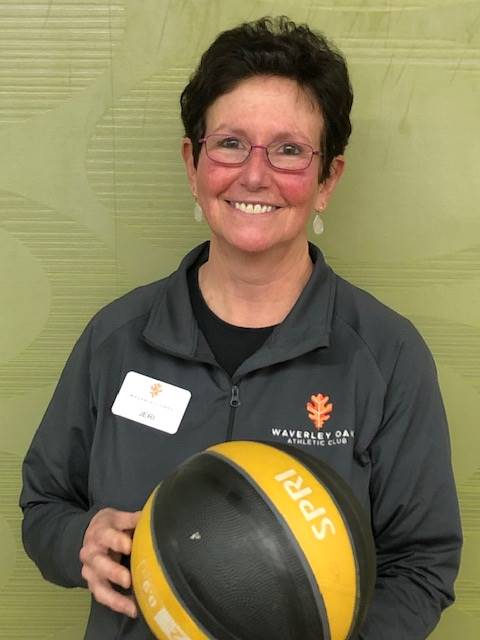 Jeri Schefts
Certifications: American College of Sports Medicine (ACSM)
Jeri Schefts has been in the fitness industry for over 30 years. She holds a BS in Accounting from the University of Rhode Island and her MS in Applied Anatomy and Physiology from Boston University. She is a Certified Exercise Physiologist through the American College of Sports Medicine (ACSM). Jeri grew up playing and watching as many sports as she could. Back then, the fitness industry didn't exist the way it does today, and she wanted to work in a field where she could help people improve their overall health. In the mid 80's she helped to open and manage several Richard Simmons Anatomy Asylum clubs in the area. After realizing she wanted to work with the deconditioned population that came to these facilities rather than manage them, she started teaching group exercise classes and so began her journey in the fitness industry. She then became a Personal Trainer in the mid-90s. Jeri enjoys working with adults of all ability levels and has a particular fondness of working with those new to exercise, or who are struggling to make positive lifestyle changes. Her training tends to focus on functional type movements which mimic the activities we need in our lives on a daily basis, while always addressing the goals of the client. Her favorite exercises are ones that incorporate balance and stabilization, so people not only feel strong, but also steady on their feet, to hopefully prevent falls and subsequent injuries. In her free time, she enjoys doing anything outdoors – especially skiing, biking, gardening and playing softball.
Philosophy on Training: It is my belief that people should physically and mentally feel the best they possibly can. My role is to acknowledge each person's strengths, identify areas for improvement, and help create a fitness plan that addresses the client's needs and goals while always keeping it FUN. Whether you want to improve the way you look and/or feel, have fewer aches and pains, be more active with friends and family, or just get out and "play," I can help meet you where you are and move you towards where YOU want to be!
For more information or to schedule an appointment, email jeris@waverleyoaks.com.
TESTIMONIALS
---
"My personal trainer Jeri Schefts is the primary reason why I am so enthusiastic about Waverly Oaks. I worked with Jeri at BSC and was thrilled that I could work with her again. Jeri listens to my concerns and more importantly explains how her solutions will help achieve my goals." – Paul, Member Since 2021
---
"I've been training with Jeri for months and she is a rock star! I have quickly seen results and use her knowledge on form and reps when I'm working out on my own. She is friendly, supportive, super knowledgeable and easy to talk to! I'm so pleased with my training!" – Chrissy, Member Since 2019
---
"Jeri is great. She goes out of her way to demonstrate exercises that help improve my specific physical/medical condition. She is sincere and demonstrates a real interest in advancing your goals and improving your workout routine." – Douglas, Member Since 2015