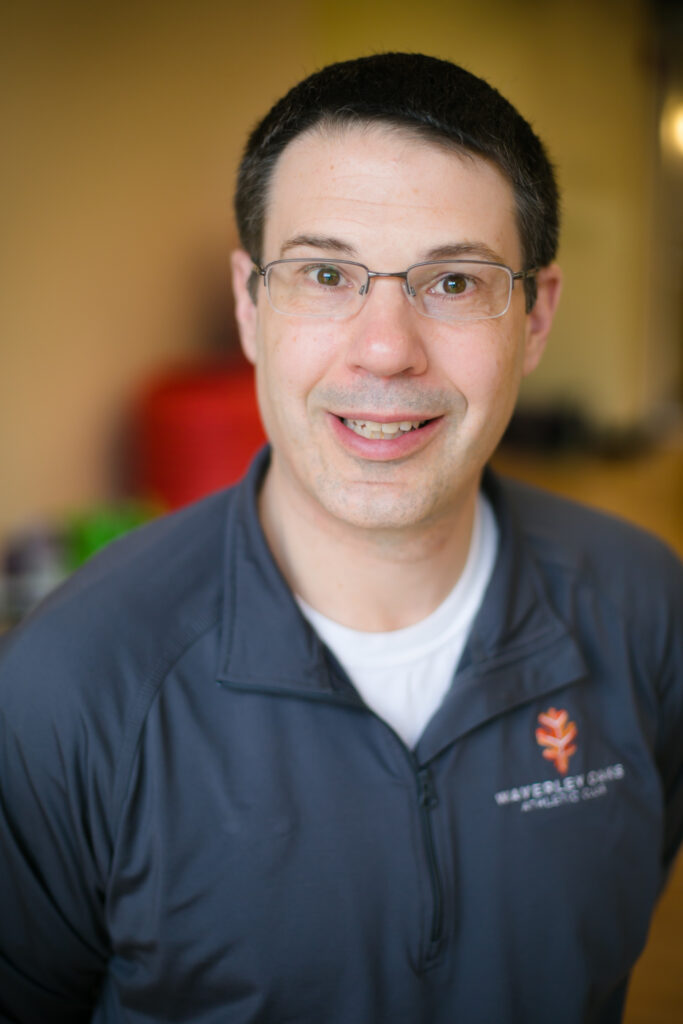 Adam Healy – General Manager
Adam is a sixteen year veteran of the fitness industry and has been involved in all aspects of health club management. From his early days of running youth programs to his time as a co-owner of a local club, Adam has been able to learn all aspects of how to create a full service facility that members can be proud to call their own. Prior to joining Waverley Oaks Athletic Club, Adam was the Member Services Director at the Mount Auburn Club and also served on the Board of Directors of the New England Health, Racquet & Sports Club Association for the last four years.
Building our sense of community here at Waverley Oaks is the top priority! Consistent communications will be used to make sure that everyone who uses our Club has the information they need. Adam will meet regularly with members and staff to gather all of the great ideas on how the Club can continue to improve day after day. When your experience at the Club exceeds expectations you will tell friends and family and our Waverley Oaks community will continue to grow! To reach Adam e-mail adamhealy@waverleyoaks.com.
---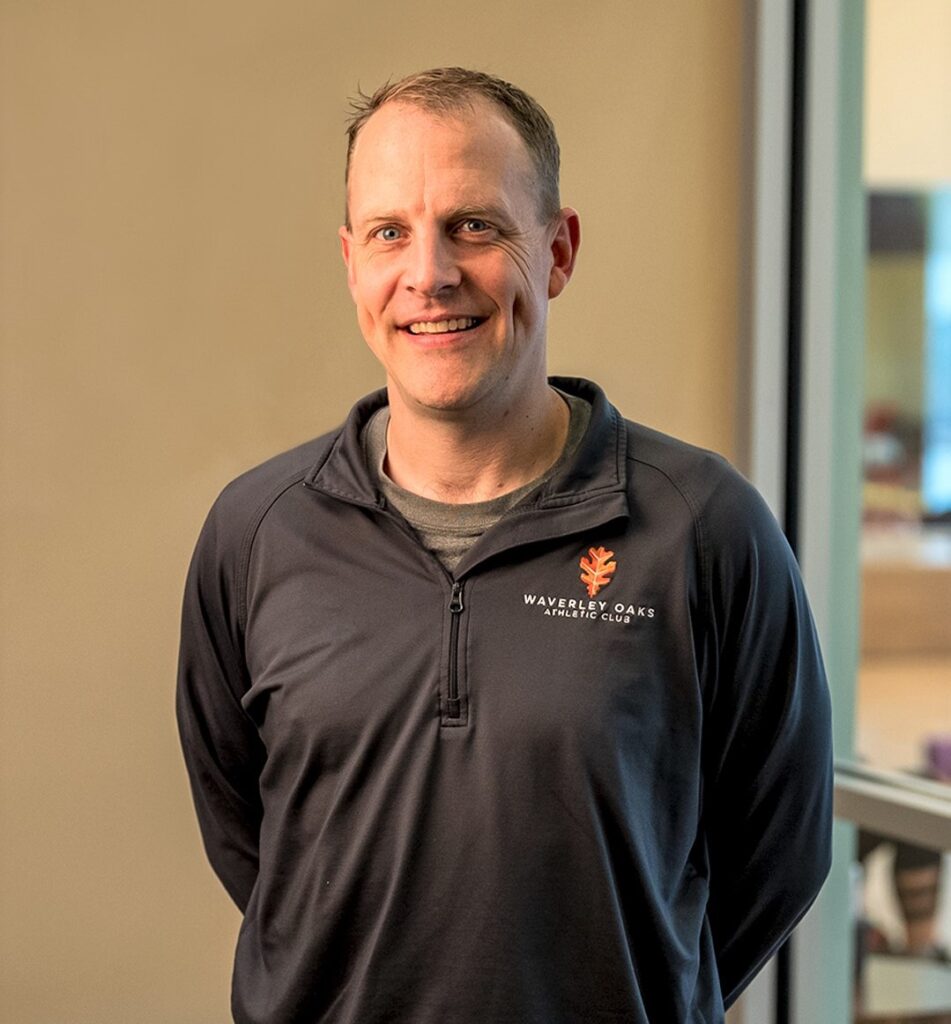 Jon Mack – Fitness Director
Jon brings over fifteen years of experience in the fitness industry to both the club and corporate fitness settings. He comes to Waverley Oaks after spending the last 15 years at The Thoreau Club in Concord, MA where he most recently served as the Personal Training Director for the last 7 years. Jon has the knowledge and experience to work with all levels of ability from members in their teens to adults in their 80's. His clients range from high school and collegiate athletes, healthy adults as well as those with all types of physical and neurological limitations. Jon also teaches corporate fitness classes in the area and has also consulted with numerous employers in the Boston area who are looking to start wellness programs for their employees.
Jon is always available for a complimentary consultation with any member (or future member) who wishes to discuss what their current fitness routine is and how he can be of help to them. Whether your needs are to reinvigorate your current routine, overcome a new or existing injury, set goals or just to discuss anything health and wellness related please contact Jon at jonm@waverleyoaks.com.
---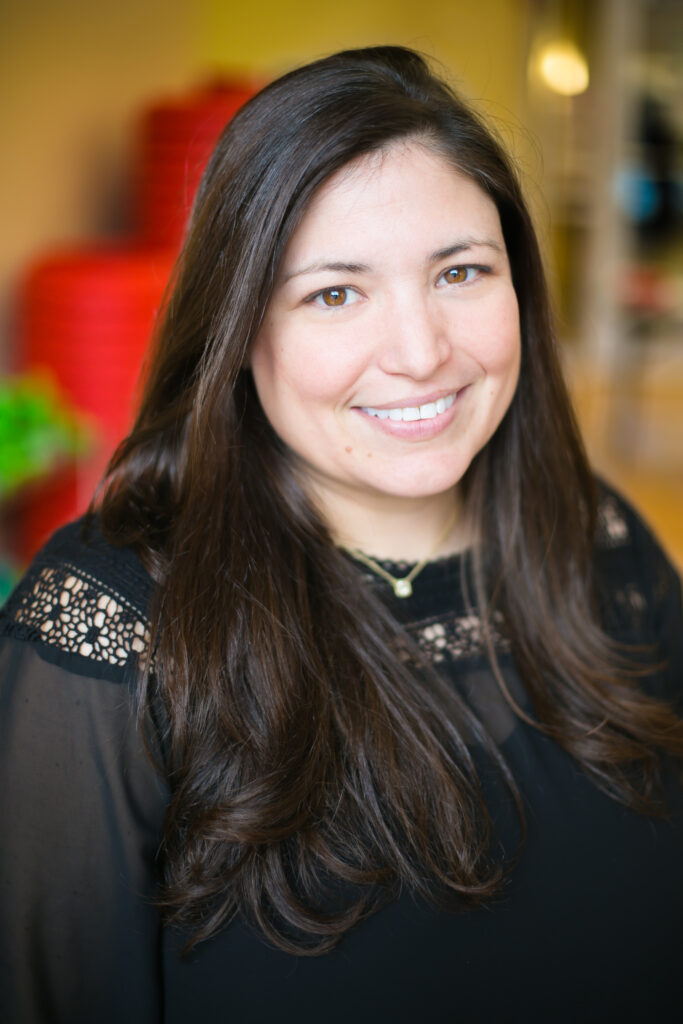 Heather Healy – Wellness Programs Director
Heather has been sharing her love of fitness with members of clubs across this country for over 20 years. As a competitive swimmer and water polo player throughout college it was a natural transition to begin a career in the fitness industry soon after graduating. Heather attained numerous certifications including Certified Group Fitness Instructor, Certified Personal Trainer, Kickboxing, Zumba™, TRX, Kettlebells, and Wellness Programing. Through this education she came to realize the multiple ways she could impact and improve the lives of those she was in contact with with a holistic approach. Most recently Heather was at the Mount Auburn Club overseeing their member integration process and creation of group training programs.
The Wellness Programs Director position here at Waverley Oaks allows Heather to use all of these previous experiences to help members get more out of their membership at the club. Heather directly oversees all of our Group Fitness Classes, Small Group Training and is constantly developing and acquiring new programs to add to our already strong offerings. In addition, she has created multiple data driven Wellness Programs allowing members to better understand their vital health statistics so workouts can be custom designed and results can be measured and tracked so accomplishments can be rewarded. Feel free to contact Heather at HeatherH@waverleyoaks.com to discuss how we can help you get here to Waverley Oaks even more!
---
Dory Berman – Aquatics Director & Retention Manager
Once upon a time there was a curly haired girl named Dory who had a two-pack-a-day cigarette habit. A smoker for 13 years at age 23, she realized her life-style HAD to change. A friend dared her to join a health club, which was a big deal since she had always ridiculed health clubs, viewing exercising indoors as a complete waste of time. A few months into her membership, Dory reluctantly joined an aerobics class. After a lot of struggling, as most do, with the moves, directional changes, and generally keeping up, she eventually got the hang of it. More importantly, Dory saw an incredible change in her body, her attitude, and her energy. Six months later Dory became a certified aerobics instructor.
Dory has been teaching group exercise for nearly 29 years. She loves all forms of group exercise, but is most passionate about water aerobics. Join Dory for a spirited, joyful water workout at Waverley Oaks. Or attend BodyPump with Dory as she leads you through one of her favorite Les Mills programs with energy and enthusiasm. Come find out why Dory loves what she does so much!
---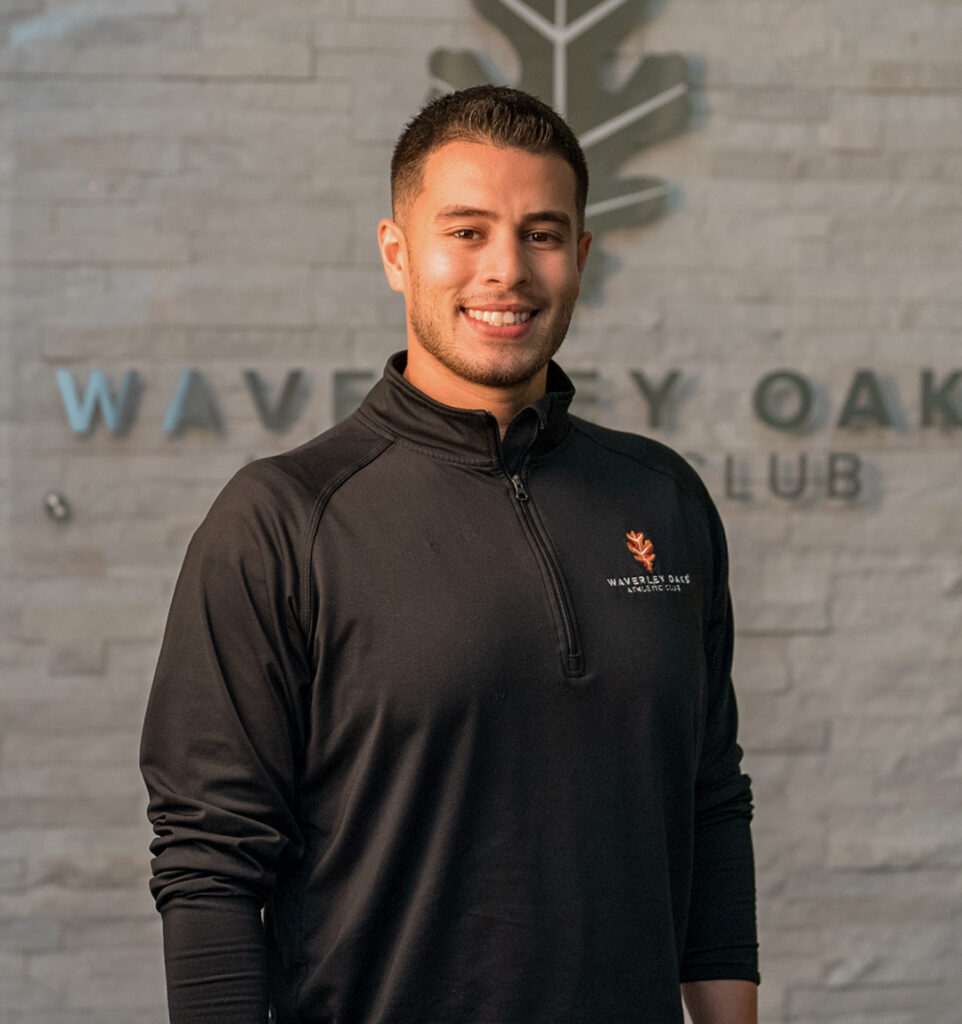 Brian Monroy – Membership Representative
Growing up just 20 miles west of Boston, Brian had a love for sports. He wrestled and played football at Framingham High School, and after he graduated in 2013, he attended Bridgewater State University where he worked on campus at Thornburg Fitness Center as a Member Services Assistant and Fitness Center Supervisor.
Throughout his 4 years at BSU, he built solid relationships with students, faculty, staff, and alumni before graduating in 2017 with a Bachelor of Science in Exercise Science.
During the summer of 2016, he interned at Athletic Republic as a Sports Performance Coach in Norwood, MA where he tested, taught, and trained hundreds of individuals and helped them improve on athletic performance.
Prior to Waverley Oaks Athletic Club, Brian spent 10 great years working in a variety of positions at Weston Golf Club in Weston, MA before making the move to the Club in 2020. His experience at Waverley Oaks has been nothing short of amazing. Within his role, he has the opportunity to connect with former, current and future members, listen to their stories, and help them become a better version of themselves while at the same time building a great community.
---