H2O Instructors
---
Dory Berman – Aquatics Director
Once upon a time there was a curly haired girl named Dory who had a two-pack-a-day cigarette habit. A smoker for 13 years at age 23, she realized her life-style HAD to change. A friend dared her to join a health club, which was a big deal since she had always ridiculed health clubs, viewing exercising indoors as a complete waste of time. A few months into her membership, Dory reluctantly joined an aerobics class. After a lot of struggling, as most do, with the moves, directional changes, and generally keeping up, she eventually got the hang of it. More importantly, Dory saw an incredible change in her body, her attitude, and her energy. Six months later Dory became a certified aerobics instructor.
Dory has been teaching group exercise for 30 years. She loves all forms of group exercise, but is most passionate about water aerobics. Join Dory for a spirited, joyful water workout at Waverley Oaks. Or attend BodyPump with Dory as she leads you through one of her favorite Les Mills programs with energy and enthusiasm. Come find out why Dory loves what she does so much!
---
Carly Cormier
Carly has always been a water baby at heart and still am to this day! She learned how to swim at a young age and was a competitive swimmer while attending Bridgewater State University. With both undergraduate and graduate degrees in Communication, it wasn't until she started working that she discovered how much she loved teaching. As the Aquatics Director at another facility, she had initially not considered teaching water fitness, but it has truly been a transformative experience for her. With 2 boys 16 months apart, she decided to get certified through AEA (Aquatics Exercise Association), figuring this would be a great way to continue working part-time. Carly takes great pleasure in learning and improving her aquatic fitness instructor skills and she enjoys teaching a high-energy class with the goal of helping participants leave feeling good!
---
Allison Moreland
I've been working in aquatic fitness for more than 10 years. I have been part of the health and fitness industry for even longer. In my younger days dance and traditional aerobics were a great source of enjoyment and learning for me. After a number of years of high impact exercise I began to experience problems with my hip joints. As I got more involved with aquatics I was able to get back into the exercise programs that always brought me joy and I rediscovered how different forms of exercise, especially water, are therapy to so many people who have joint, muscle and mobility challenges.
When I began working at a fitness club I got to go to all the aqua aerobics and arthritis classes. I loved it! At one point, our instructor, who was pregnant, was instructed to go on bed rest for the rest of her pregnancy and the director of aquatics asked if I could cover her classes. I never looked back!! I got certified and I've been teaching ever since and loving every minute!
I always loved the water. Even before I was swimming I loved going to the pool with my parents. As a kid, my family called me 'the fish'. I went to the pool every day all summer long and on occasion I would get to swim indoors during the winter. I started swimming laps but got bored because I was doing the same thing over and over with only slight variation. I couldn't stick with it. As I grew older access to a pool dwindled but once I had kids I found a pool and went back with them in tow and spent the summer at the pool.
I also love aqua aerobics because there's music!! Music uplifts you and makes you want to move and by the end of the class you're asking yourself, "Where did the time go?" It just flies by! However, the best part of aqua aerobics is the community of students and it makes all the difference! We've become friends who care about each other and care about getting and staying fit. Join us for getting fit, having fun, and making friends!!
---
De Springer
Certified in Water Fitness, Aqua Arthritis, Barre and a swim lesson instructor, I have been an exercise enthusiast since I began running track at age 10. Evolving with the gym culture in NYC in the 90's, I took classes 6 days a week at The Vertical and Equinox Clubs and took ballet and modern at The Martha Graham and Peridance Studios where I was introduced to Pilates and Gyrokinesis. A running injury dove me into the pool for healing and it was in aquatics that I was able to synergize many favorite movement modalities. I thrive on the continual physical education that teaching requires and taking class reinforces. I am committed to my class participants' learning, too, passing on current best practices. When asked what I find most rewarding about the work my answer is that, "my 90 year olds keep coming".
---
Sinceree Clarke-Diego
Sinceree has been working in the fitness industry for almost 10 years both as a group exercise instructor as well as a personal trainer. She holds an Associate's Degree in Exercise Science from Quincy College and is a Certified Personal Trainer through the National Council on Strength and Fitness (NCSF). She also holds her Group Fitness Certification through the Athletics and Fitness Association of America (AFAA). Sinceree enjoys working with all ages and fitness levels but particularly enjoys working with those looking to lose weight, improve strength/flexibility/balance, pre and post-natal women as well as those conditioning for basketball, soccer, volleyball, tennis and obstacle course racing. In her free time Sinceree enjoys doing all things life has to offer with family and friends from sky diving to reading a book on the beach. Quite simply, Sinceree looks at each day as a chance to live life to the fullest.
---
Joanne Scouler
I've been working in the fitness industry for over twenty years and I have been an athlete all of my life. Growing up as a child I was a swimmer on the New England Barracudas swim team and as a student at McGill University in Montreal, Quebec Canada I was a competitive field hockey player. A shoulder injury brought me back to the pool and I learned how healing the water can be for any limitation or injury. It was after I rehabilitated my shoulder in the water that I started to teach aqua fitness classes. I'm grateful to be able to demonstrate, coach, and share my love of movement with others to build strength and cardio fitness.
I am certified as an Aquatic Exercise Professional through AEA, a Lifeguard and Swim Instructor through the Red Cross, and a Group Exercise Instructor through SCW fitness. I specialize in aquatic exercise, active aging, and I love music and dance. I look forward to meeting and working out with you!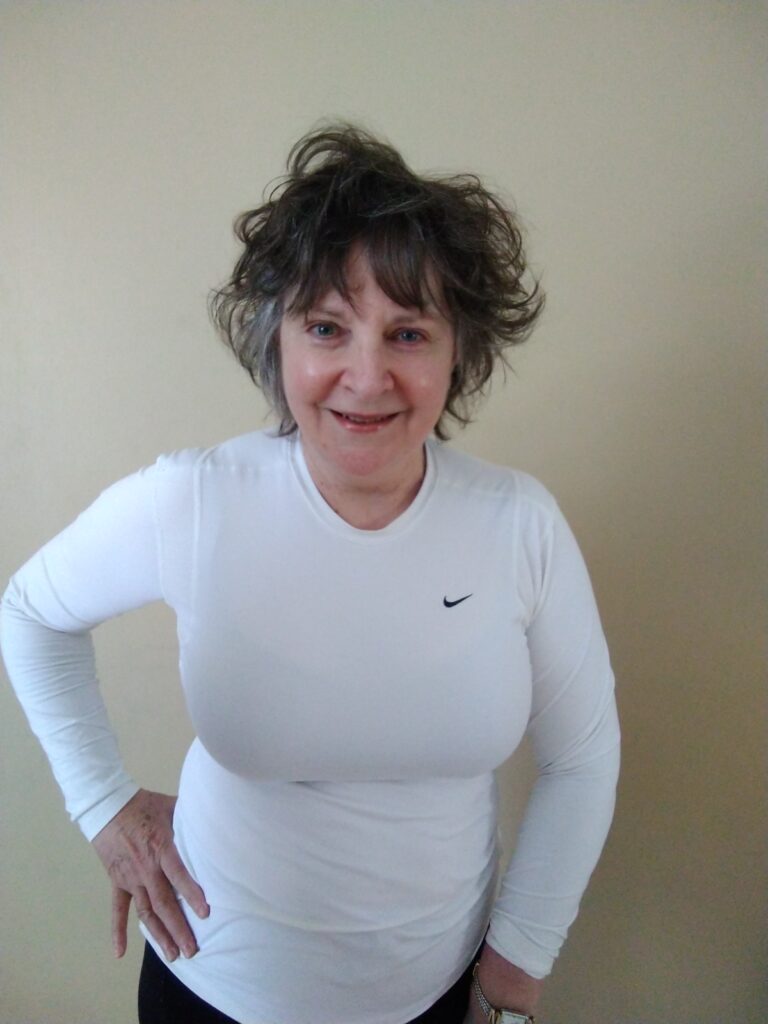 ---
---