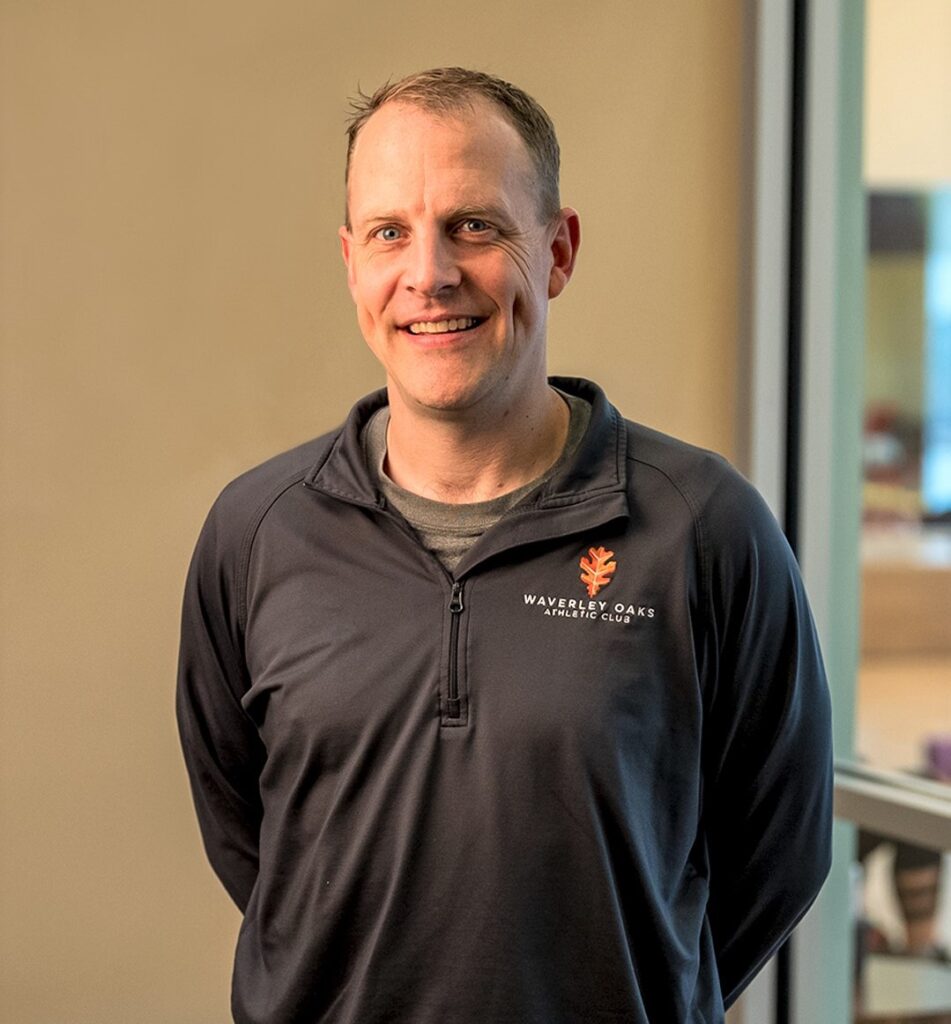 JON MACK – FITNESS DIRECTOR
Certifications: BS in Exercise Science, ACSM, TRX and FMS
Jon believes that anyone regardless of age, level of fitness, healthy or with limitations can benefit from fitness training. When he first works with a client there is an assessment of their total body from top to bottom as one unit as opposed to a bunch of different parts. This evaluation allows Jon to start to put the puzzle together of what exercises will be most beneficial to help correct any imbalances that he sees. These corrections help the client function better in everything that they do in life whether it be at home, at work, on the field or wherever else life takes them.
Jon's personalized approach to training will provide you with a path to help reach your goals in a much more safe and timely manner while always making fitness FUN!!!
For more information or to schedule an appointment, email jonm@waverleyoaks.com.
TESTIMONIALS
---
Q & A With Nancy R., Member Since 2007
Q: What was your motivation for working with a Personal Trainer here at Waverley Oaks?
A: 12 years ago, I had a total knee replacement, and I am also an 8-year breast cancer survivor, so I know how important being healthy is, and staying here at the gym is a huge part of being healthy. And actually, at my highest weight, I weighed about 240lbs. I currently weigh 160lbs, so I've lost 80lbs through years of hard work here at the gym, watching what I eat, and taking care of myself.
Q: What is/are the most powerful change(s) you've seen in your life since working with Jon?
A: It's the desire to be here and to be the best me that I can be. I find it so strengthening, and personally strengthening. And I have grandchildren that I watch, and it helps me to keep up with them!
Q: What is the most valuable information you have learned since working with Jon?
A: To sometimes put my own needs first. A couple years ago, my husband was very ill, and I knew that I needed to be here at times because it is my safe-space. But I also have learned to put my own needs first sometimes. It's hard, the mom-guilt is really heavy sometimes, but I now know that I can't take care of other people if I don't take care of myself. I've become a better person who takes better care of myself now that I am physically fit.
---
"I trained with Jon for more years than seem possible. During all that time, Jon proved to be a great motivator, gently pushing me to increase my strength, balance and stamina. He was always mindful of physical limitations, whether temporary or chronic and was instrumental in helping me through a partial knee replacement to a full recovery. I cannot imagine a more competent or dedicated personal trainer." – Alex