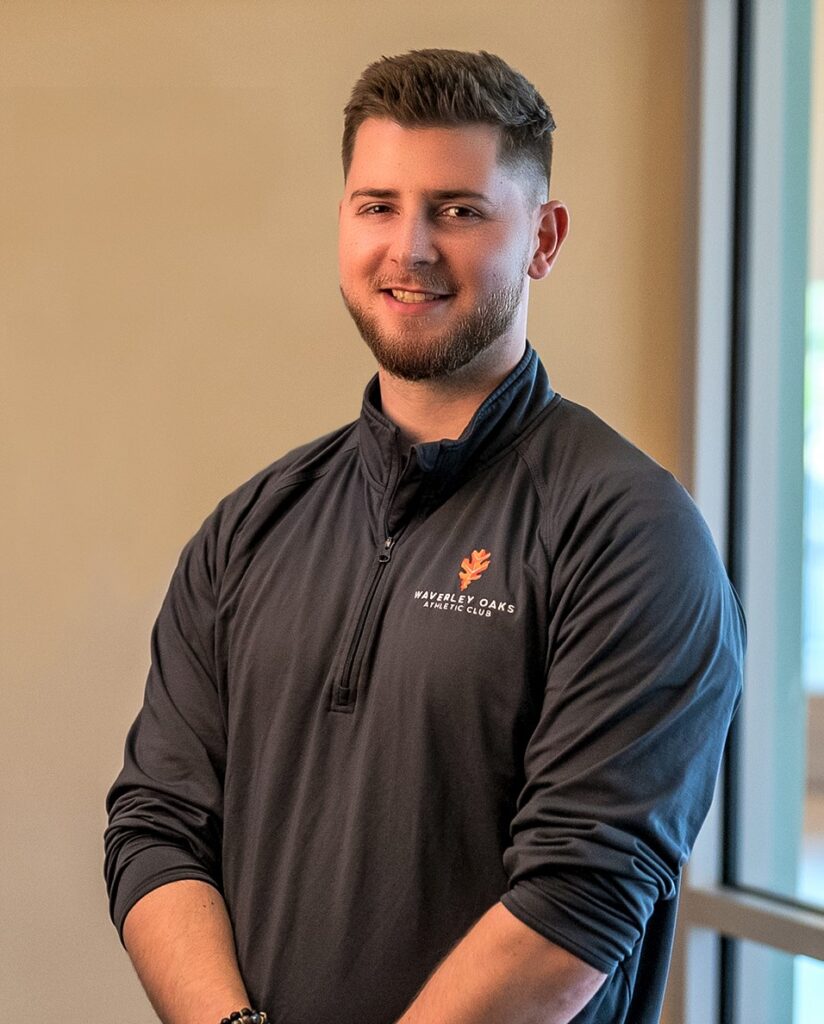 CHRIS GOODE
Certifications: National Academy of Sport Medicine (NASM)
Chris received his BS in Culinary Arts and Food Service Management from Johnson and Wales University in 2015. However, Chris has been an athlete his entire life, and despite his inspiration to throw down in the kitchen, he decided he wanted to go a different direction and help people improve their outlook and confidence through regular physical activity and proper nutritional habits. He attended the World Instructor Training School (WITS) where he studied strength and conditioning for 4 months followed by an internship program at Waverley Oaks. Using a combination of knowledge from a nutritional and training stance, Chris really differentiates himself from the pack. He is a Certified Personal Trainer through the National Academy of Sports Medicine (NASM) and has acquired several specializations through NASM including Training Psychology and Nutrition.
Chris enjoys working with all populations regardless of whether they have been exercising for years or are looking to begin the journey. He also particularly enjoys working people who are serious about improving their strength, physique, and sport practice. In his free time, Chris enjoys bodybuilding, basketball, snowboarding, and rock climbing. In addition, he is a big fan of shows, movies, video games, and eating!
Philosophy on Training: Keep it Simple. Understand what you are training for, the mechanisms that will help you achieve it, and pursue those consistently. Understand that good technique, effort, patience, and attention to detail really add up over time if you are willing to learn. Lastly, heavy weight training can be for most people, and in my opinion is the best use of time for many individuals I work with.
For more information or to schedule an appointment with Chris, email chrisg@waverleyoaks.com.
TESTIMONIALS
---
Q & A With Member – Nick Y.
Q: What was your motivation for working with a Personal Trainer here at Waverley Oaks?
A: To lose weight, strengthen my core, and basically to get myself back into shape, but without any injuries. I have utilized trainers in the past and knew a trainer would fulfill those goals, but also keep me committed to a program.
Q: What is/are the most powerful change(s) you've seen in your life since working with Chris?
A: The changes to many would seem small, but the ability conduct everyday small tasks. Walking up a flight of stairs, getting up from a sitting position, significant balance improvement, and most notably, my clothing fits far more comfortably. Yes, weight loss has occurred as well, down 12lbs over three plus months.
Q: What is the most valuable information you have learned since working with Chris?
A: Slow and steady pace is the best way to achieve my goals, and do so without injury. And that fitness can be fun.
---
" Chris Goode combines a positive, upbeat approach to fitness training with a willingness to listen and tailor workouts to your needs. Working with him I've improved my strength, conditioning, and flexibility (which has showed up in my tennis playing) and, most importantly, accomplished this while steering clear of injuries. I strongly recommend Chris for anyone looking for guidance in getting, and staying, in better shape." – JF