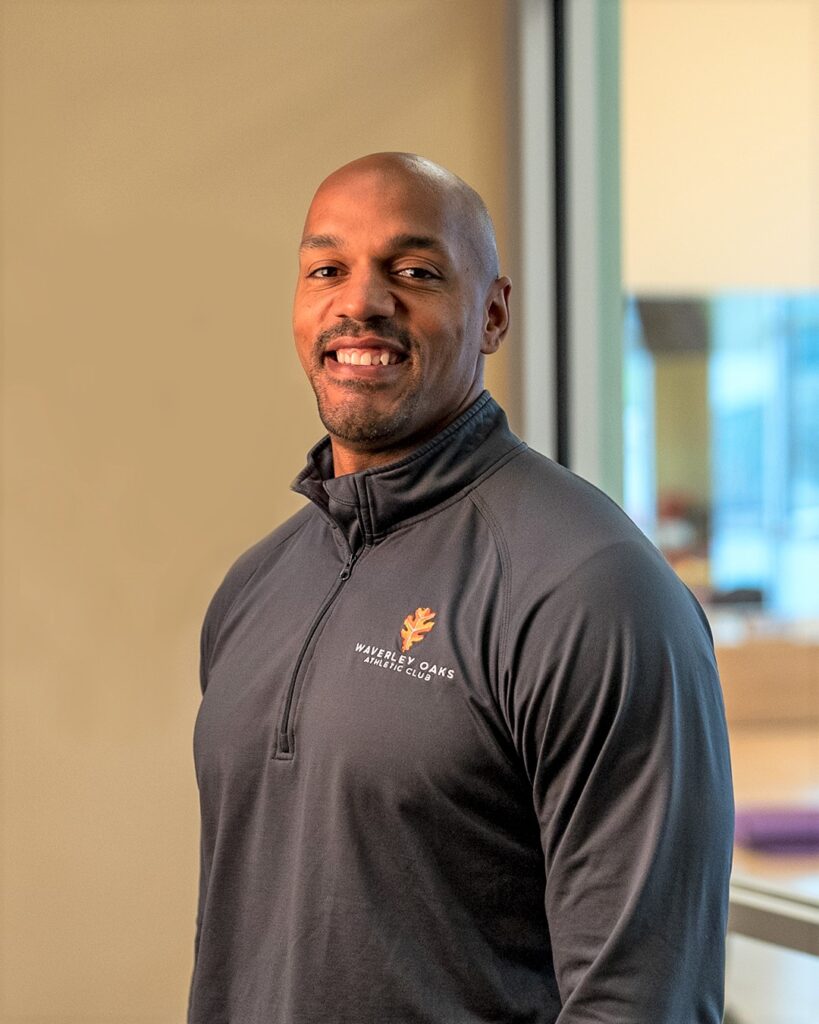 Joe McCormack
Certifications: Certified Functional Strength Coach (MBSC)
Joe McCormack joined the Waverley Oaks Training Team after previously spending the last 12.5 years at the former Mount Auburn Club. Joe received his BS in Sociology and a Minor in African American Studies from UMASS-Amherst. After college, Joe decided to pursue a career in the fitness industry because it allowed him to combine his love of physical activity and competitive collegiate athletics in track and field/football with helping people achieve and maintain a healthy lifestyle. Besides his Functional Strength Coach Certification from Mike Boyle's Sports Conditioning, he also holds certifications in TRX, Kettlebells from Kettlebell Concepts, Functional Movement Screening (FMS) and Gravity. Joe enjoys working with all ages and ability levels, regardless if you are brand new to training or have some level of experience working out. Regardless of who he works with, the goals are ALWAYS the same-be healthier and function better each and every day. Given his background, he enjoys working with football and track athletes but is thrilled to work with any ability level-regardless if they are an athlete or not. His favorite exercise is the Single Leg Romanian Deadlift because it is a great functional exercise that everyone can do that improves mobility, stability and strength with a focus on the posterior chain which can be a weak link in many individuals. In his free time Joe enjoys spending time with his two sons, working out, cooking and watching the Patriots.
Philosophy on Training: You must know where you are heading before you choose your path. First, we must figure out what your goals are before we can seek out that path to best achieve them. Customizing your program is vital, regardless if you are doing 1 on 1 training or small group training. Everyone needs to have their own specific program tailored to their needs. Exercise selection, the order in which the exercises are done, sets, reps, tempo are all key elements that must be utilized in developing a successful program to help you achieve your goals. Fitness is an education process, so it is important to me that I teach you how to get fit and stay healthy along the way. I love to motivate and see my clients feel and see results they never knew they could achieve. It is also important to me that I get you to embrace and enjoy a healthier lifestyle that is both attainable and sustainable.
For more information or to schedule an appointment, email joem@waverleyoaks.com.
TESTIMONIALS
---
"My personal trainer, Joe McCormack, is outstanding! I have a back injury, and he is able to train me and strengthen my back at the same time while modifying workouts as needed. He is professional, friendly, and kind." – Ramona, Member Since 2021
---
"I joined the gym specifically because Joe McCormack was hired as a Personal Trainer. He is without exception the greatest asset to Waverley Oaks. He is knowledgeable and kind and excels with all different fitness levels. Young or old, beginner or athlete, healthy or injured, Joe will deliver results." – Madeline, Member Since 2020
---
"As you must know, Joe is especially patient with those of us older people and is very careful not to push too hard – lest we injure ourselves! He does this in a way not to make me feel inadequate and weak, but to motivate me to stick with it and improve. To help, he gave me a terrific spreadsheet detailing the different machine settings because I had never used any machines before except the treadmill and elliptical. He really is a great coach and knows how to motivate me to not give up." – Michael, Member Since 2020
---
"Joe is an extraordinarily competent and compassionate person and professional. He really helped me expand my workouts from running and swimming to using the Club's machines to develop my strength and balance capabilities. He makes me even happier to be a Waverley Oaks member!" – Patricia, Member Since 2020